Transform Your Business.
Partner with us for a smooth transition.
If you own a daycare, child care center, or school, you most likely share our vision for a better world. We're dedicated to supporting hardworking families and nurturing the next generation. With a 50-year history and a network of over 1,500 centers spanning 40 states, we proudly care for over 195,000 children and counting. When you join the KinderCare family, you become part of the nation's most
accredited child care provider
.
Discover a partnership that goes beyond just selling your business. KinderCare specializes in acquiring diverse child care centers, ranging from small family-owned establishments to renowned portfolios like Crème de la Crème and franchises. What drives us is creating scenarios that benefit everyone involved, where your goals and aspirations align seamlessly with our shared vision. Let's shape the future together.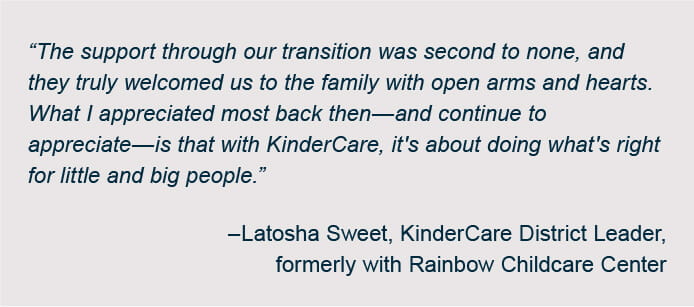 We're focused on our shared success.
With our extensive history in early childhood education, we have gained expertise in navigating acquisitions. And in alignment with our greater mission—building confidence for kids, families, and the future we share—we want to form mutually beneficial partnerships that celebrate your vision and inspire growth.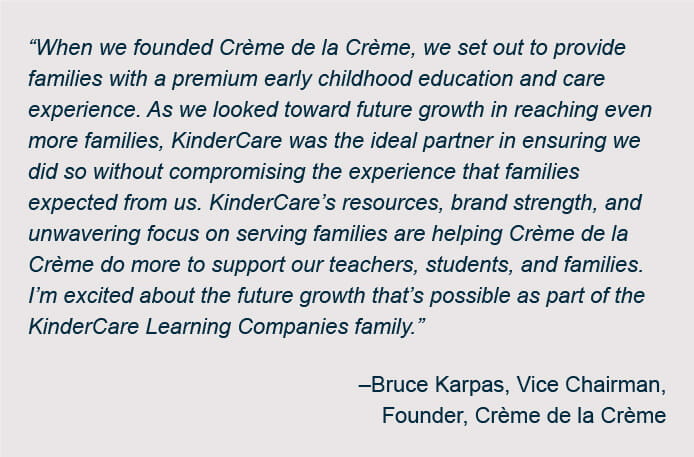 Upholding your legacy is part of our job.
Over the past five years, more than 230 child care centers have found a new home in the KinderCare family. We understand that every partnership is unique, which is why we approach each one with personal consideration, adjusting to meet the needs and goals of the businesses we add to our circle. Not only do we lay the groundwork for smooth transitions, but we also created the blueprint, setting the industry standard for successful transformations. We also have the resources needed to make the most of your life's work, such as a dedicated recruiting team, proprietary curriculum and employee resource groups, a dedicated Inclusion Services team, career pathing and development, and so much more.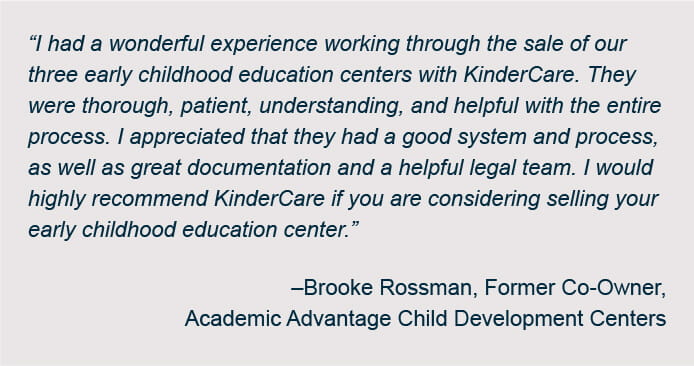 Our teachers are the heart of our centers.
We prioritize the well-being of our employees, and it shows. Our commitment to creating an exceptional workplace has earned us the prestige of the
Gallup Exceptional Workplace Award
consecutively for the past seven years. This recognition is reserved for organizations that have demonstrated an outstanding ability to create an environment where employees thrive and contribute their best.
Expect transparency every step of the way.
We understand the value of transparency, especially when considering the sale of your business. You've invested your time, you've built a caring community, and you've helped create a better future for children. At KinderCare, we prioritize open communication and clarity throughout the entire process. We aim to build a strong partnership by keeping you informed and engaged, and providing a clear roadmap that outlines each stage and what to expect next. Trust us to guide you through this journey with confidence and integrity.
Meet your support team: Daniela Moss and Drew Suing.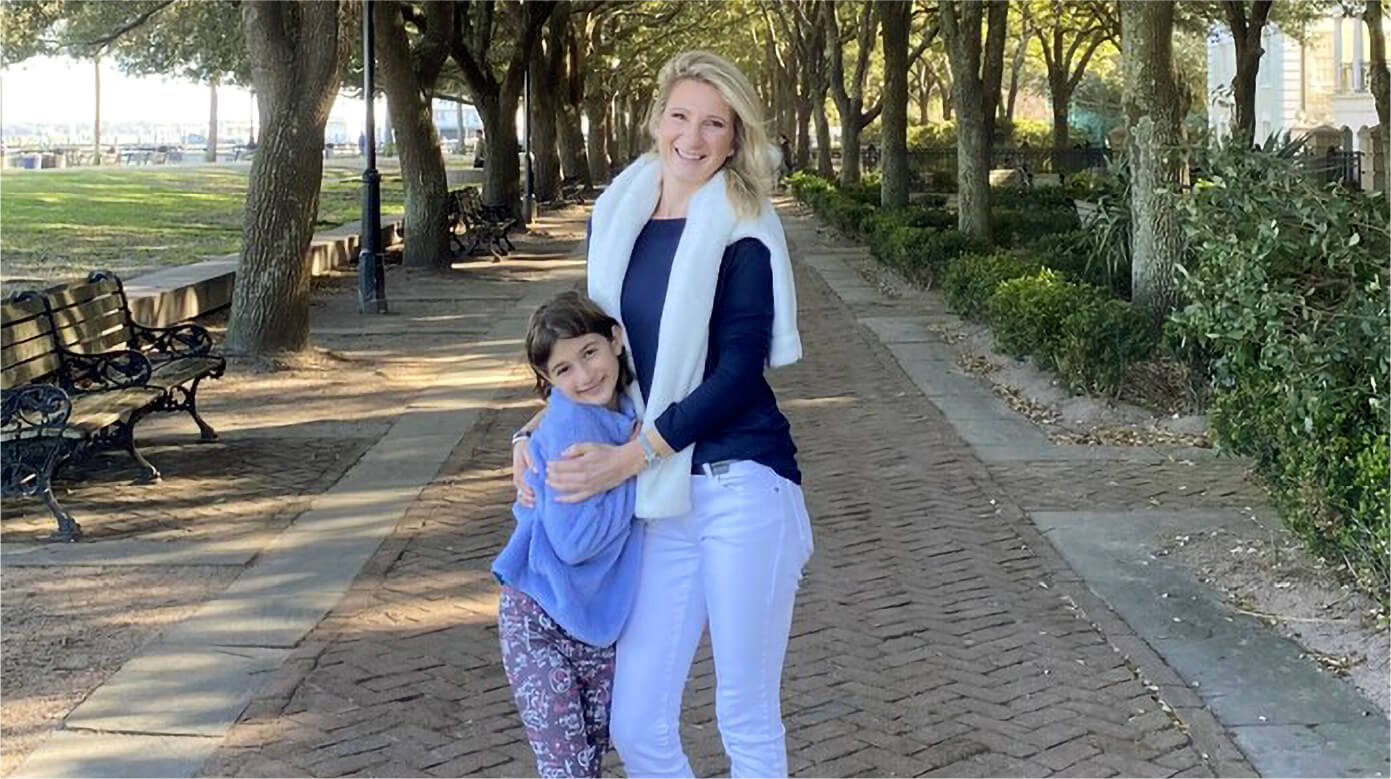 Daniela Moss

Born and raised in Germany, Daniela speaks German and English fluently. With more than 14 years of experience in financial analysis and financial management, Daniela most enjoys meeting sellers and learning about their business. Outside of work, Daniela enjoys ice skating with her 10-year-old daughter. They also enjoy traveling together, hiking, and being creative by designing fashion or decorating houses.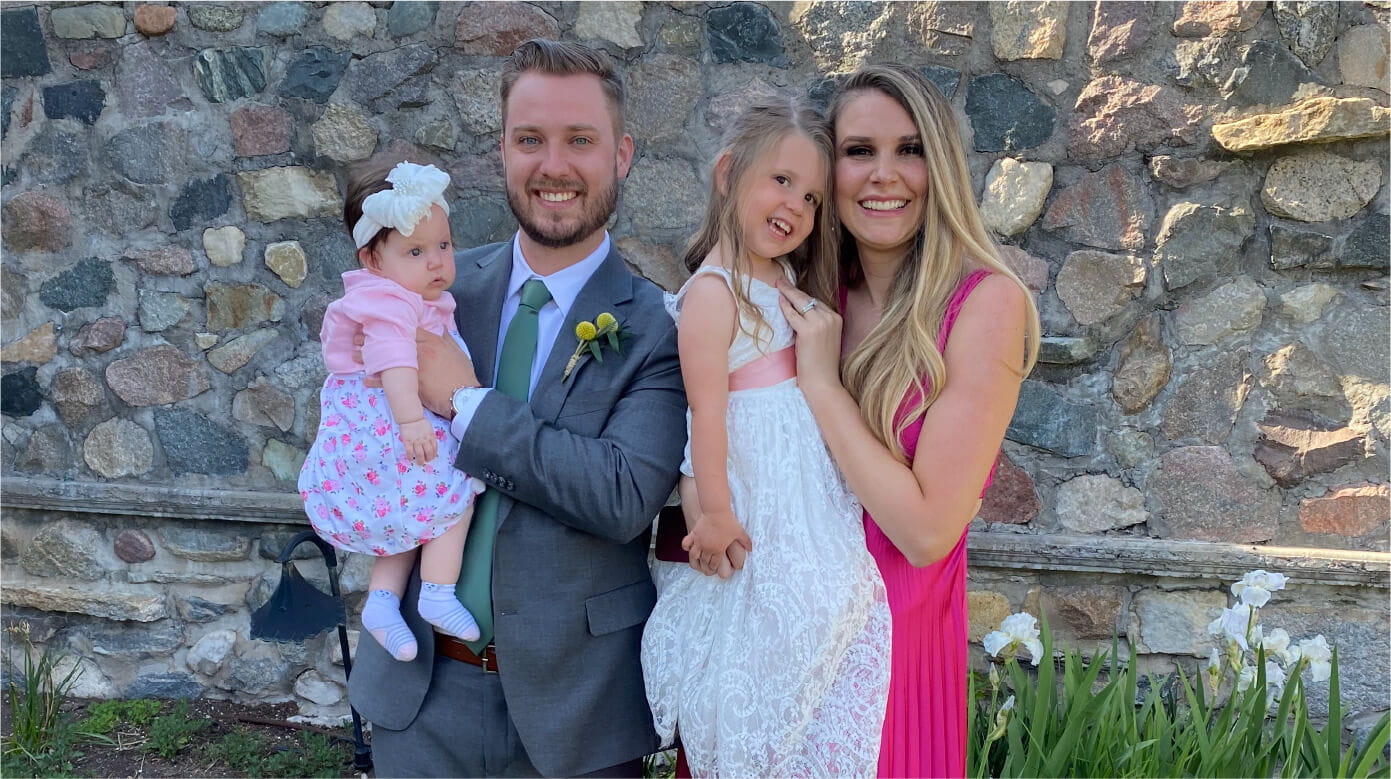 Drew Suing
Drew has served in an array of finance roles across industries, with experience in large publicly traded companies and family-owned private organizations. In those teams, Drew has spent most of his time in mergers and acquisitions capacity, helping sellers and organizations come up with strategic solutions and outcomes that benefit all parties. When not working, Drew enjoys spending time with his wife, two young daughters (who both attend their local KinderCare), and his Australian Shepherd. Drew is also an avid sports fan and loves his Detroit Lions!
Frequently asked questions
I want to sell my daycare. How do I start the process?
Fill out our short form and we will reach out to you with next steps (see form questions at the end).
How is my information protected?
Before sharing information with us, we can put in place a confidentiality agreement to protect your information.
What happens to my employees when I sell?
We want to retain your teachers and staff. They make your center special. When your staff joins our KinderCare, they become part of a large family supported with:
Medical, dental, and vision benefits
Discounted child care tuition
401k with employer match
Education assistance
Professional development opportunities
Paid time off and life insurance
Yearly teacher recognition awards
How long will it take to sell my child care center to KinderCare?
Each acquisition is unique, which is why we build a specific plan for you. We find that variations in timelines often occur due to availability of information and key business partners, and state regulatory processes.
What happens to my real estate if I sell my business?
We can work with you on a deal to include both the operations and real estate. Our business model focuses on operations, so we partner closely with a few trusted Real Estate Investment Trust partners to make a seamless process and transaction for you.
Can I sell a vacant daycare center?
Yes, we are interested in vacant centers. We can introduce you to our Real Estate team, who focus on centers no longer in operation.
How can I get in touch with someone at KinderCare to discuss my center?
The best place to start is by reaching out to our support team by filling out this short form.